October 05 SPELLCASTING TOUR
tour with: Irene Moon's auk theater
and the WIZZARDS

Wednesday October 12th Providence
with The Blow, Lucky Dragons and more.
(NO WIZZARDS OR AUK)
May+ Kevins Forever- 9pm downtown above blakes,
Thursday October 13 Baltimore
@ Floristree, H & H Building 405 W. Franklin St. 6th Floor, 9pm.
w/ Diamond Caverns (Austin, TX),
Peter and the Wolf (Austin, TX) and Lexie Mountain Boys (Baltimore)

Friday October 14 New York
@ A Rubulad Party (338 flushing between classon and taffee in the
navy yard area of brooklyn, south of williamsburg) a puppet themed event, 10pm

Sunday October 16 North Adams Mass,
@ Contemporary Artists Center (CAC)

Monday October 17 Rochester , NY @A/V Space

Tuesday October 18 Pittsburg , PA @ Garfield Artworks

Wednesday October 19 Columbus, OH @ Skylab ( 57 E. Gay St.), 9pm

Thursday October 20 Detroit
@ Behind the Green Door

Friday October 21 Chicago (Part of the Select Media Festival)
@ Iron studios (37th and iron)
with Paper Radform...+ more. will be sick.

Saturday October 22 Bloomington, IN @
On A Lark (410 w.4th st) w/ NomanOak featuring Puppy Vs. Dyslexia, 8pm

Sunday October 23 St. Louis @ Spooky Action Palace
WITH PAPER RAD!

Monday October 24 Nashville, TN
Tuesday October 25 Birmingham
, Al @ Hot L Birmingham (corner of 18th St. & 2nd Ave South)
w/ Indian Jewelry

Wednesday October 26 Atlanta, GA @ Eyedrum

Thursday October 27 Hickory, NC @ Wizards Lounge

Friday October 28—Lexington, KY @ the Icehouse (412 Cross St.) 900 door,
All Ages


Saturday OCTOBER 29th someplace else

Sunday October 30 PHILLY
(W/O auk + MILE MARKER!? huh>)

MONDAY HALLOFUCKINWEEN PROVIDENCE RI!
old stuff;_-------->
SECRET EYE RECORDS OF PROVIDENCE PRESENTS:
A RHODE ISLAND BEACH PARTY ˆ HAISTA VITTU!
THURSDAY SEPTEMBER 1st, 2005
12 NOON UNTIL 7PM (SHARP!)
THE CAROUSEL AT GODDARD MEMORIAL STATE PARK
FREE! FREE! FREE!
LIVE MUSIC FROM THE INTERNATIONAL STARS OF FREE
FOLK, DRONE, IMPROV, PSYCH, NOISE, TRACK, FIELD:
ANIMENTAL (NYC) DAVENPORT (WISCONSIN) HERTTA LUSSU ASSÄ (FINLAND) KITES (PROVIDENCE) PEKKO KAPPI (FINLAND) SKYGREEN LEOPARDS SKYBAND (SAN FRAN) TAIKURI TALI (FINLAND) THE SKATERS (SAN FRAN) TOMUTONTTU (FINLAND)
URDOG (version) (PROVIDENCE)
* Bring a picnic lunch, a frisbee, some sunscreen and swimwear!
The Goddard carousel is less than 50 yards from the park beach
with FREE swimming ˆ pictures are here:
http://www.riparks.com/goddard.htm
* This party will happen RAIN OR SHINE. All of the music will be in
the beautiful historic carousel building ˆ check out some photos:
http://www.riparks.com/wedding.htm

FOR MORE BEACH PARTY INFO EMAIL:
ri_beach_finn_fest_haista_vittu@secreteye.org

DIRECTIONS:
From Providence, take I-95 SOUTH (about 12 miles)
Merge onto Route 4 SOUTH via EXIT 9 on the LEFT toward NORTH KINGSTOWN
IMMEDIATELY Take the Route 401 exit - EXIT 8
Turn RIGHT onto DIVISION ST. at the top of the exit ramp
Stay on Route 401 for about 2 miles
Turn RIGHT onto MAIN ST / US-1
At the bottom of the hill, Turn LEFT onto OLD FORGE RD
(There will be signs here pointing left to GODDARD PARK)
Stay on this road - it turns into IVES RD
There are TWO ENTRANCES to the park - both on your LEFT.
Take the 2nd one - When the park road forks, stay to the right.
Follow signs for: CAROUSEL PERFORMING ARTS BUILDING
The road will end in a parking lot at the beach - park there.



JUNE 8th 7PM! one hour only
MUDBOY LIVE AT THE PPAC
"WONDER SHOW OF THE UNIVERSE"
Mudboy and friends play a
FREE show at the largest, oldest, most beautiful opera house theater in Rhode Island-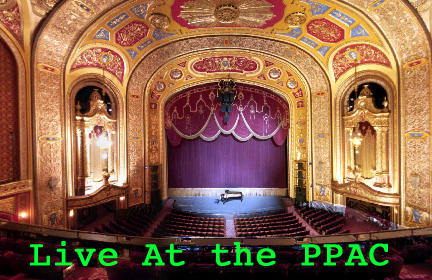 mudboy will be playing the 1927 Wurlitzer- with generous support of the Providence Performing Arts Center and The Rhode Island State Council on the Arts. Special guests include EP Talley (ninja), Jeff knoch (Urdog), and Area C accompanying. updates
feast yer eyes on this:
MORE PPAC REVIEWS AND PICTURES
SEE BELOW FOR SOME OLD 2005 SHOWS
SATURDAY July 30th:As220 downtown 9pm
Performing as a part of
Barnacled Morextra*
,
Double Leopards
, The Skaters, Work/Death and Rotten Milk
*A very special version of BARNACLED, featuring the 50-piece ensemble. Yes, 50 musicians with 50 instruments.
Admission is 50 dimes. The piece to be performed is entitled, "Music For Patience", a structured improvisation devised by Jason McGill.
Meanwhile.... Earthunder ; September 3+4th The Mill of Kintail, Almonte, Ontario.
with Mindflayer, Lightning Bolt, Peter B, Nautical Almanac, Max Eisenberg,
Kites etc etc +Play by the Trutheater theater and lots more. Damnation.
This is a "Weekend of peace and awareness dedicated to the
Elders of Turtle Island." via Fluorescent Friends & Elders without Borders.
December 16th SOME CRAZY- "HALLOWEEN IN CHRISTMAS" wherehouse... where?,,, Philidelphia night time.call here for directions: 1215-336-1998
Nov 28th 9pm Providence RI Downstairs AS220 with :Area C , Ninja vs. Wrestler, Skraelings
(Jodi Buonanno ) quite possibly more... 6$
NOV 13th EARLY MEGA SHOW get there at 8pm..
OKIE STREET Providence RI
with Lucky Dragons (Providence)
Buddyship (Providence)
Koondhala (South West)
The Blow (Olympia-K RECORDS)
Dear Nora (PORTLAND)
The Yacht (Young Americans Challenging High-Technology)(K RECORDS)
Faces of the NeverMorning (Austin)
AFTERPARTYBIRTHDAY
Oct 22nd
EARLY SHOW 9pmProvidence RI Upstairs TAP ROOM 226 benefit st With:Guy Blakeslee Knifestorm. Heart2Heart
FEBRUARY 26th Saturday- Western MASS.
The Eagles (270 Pleasant Street, Northampton, MA)
With AREA C, Lazy Magnet Bells w/out Sound and Suffer Fools Gladly
FEBRUARY 27th Sunday Brokeland. NYC
Free 103.9 Top secret underground bunker location:
free103point9 Gallery, Second Floor, 97 S. 6th St., btw Bedford Ave. and Berry St.
Southside, Williamsburg, Brooklyn.
and some other relevant info:
8 p.m., $5. Tune in on free103point9 Online Radio at www.free103point9.org
email here for directions:
With AREA C, Lazy Magnet, DJ LumbeRob, and special guest: Valerie Allen
FEBRUARY 28th Monday Brokeland. NYC
The east river bar. south 6th street Between Bedford and Berry
MARCH 11th FRIDAY- Philadelphia
Space 1026 Gallery. 1026 Arch street- opening for "Full Fathom Five"-
Annette Wehrhahní, Erica Svec, Jenny Nichols, Jungil Hong and Megan Biddle
MARCH 12th Saturday- Providence
At the RISD Tap Room- with Large Numbers (ex- Add N to X)
Fashion Flesh
A Video by James Mercer (Amoeba)

APRIL 2nd SAturday- Providence
Okie street (The Grow room) with Urdog and to be followed by a pschadelic performance of the trutheatertheater
9pm